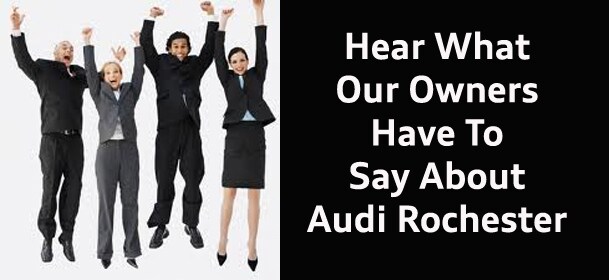 "
Excellent service. Chris did a great job with customer service. He's very friendly and answered all my questions. I requested my vehicle to be completed at a certain time and it was. Great job to all involved to accommodate my tight schedule. Chris contacted me when my vehicle was ready. Audi Rochester provides the best customer service. I highly recommend taking your vehicle there."
- Google.com Review

"Three years ago I began my association with Garber's Audi division and by luck, was first assisted by Lidia. This was in the context of the traumatic experience of being a historical Saab owner in search of a new brand and dealership. Her knowledge of the product, and her understanding of my requirements and ability to meet that in the most pleasant of ways was a breath of fresh air. Coupled with some flexibility in addressing a trade-in issues with multiple vehicles from Ken was a formula for success. After purchasing what was probably the last of std transmission A4 (which was a requirement), the last line from the film Casablanca comes to mind: "I think this is the beginning of a beautiful friendship". I' have also (over the last three years enjoyed the support/cooperation/capabilities of both Danelle and Zach in the service dept. Most recently I returned to buy out my lease and Lidia again was super efficient and made the process as quick and easy... although she keeps teasing the e-Tron GT (a beautiful instance of what I love about Audi)."
- Tom, DealerRater.com


"I highly recommend David McAloose and Audi Rochester for your next Audi. Without knowing the dealership or test drive the car, and despite I live a few hours away in NJ, I put faith on Audi Rochester and their Specialist David McAloose. Only thru a few calls and texting, Dave had my Audi reserved. The process was simple and smooth. Dave is very patient and truth to his words. After coming up north and went thru the details, I drove home happy with my new Audi in much satisfaction. Thanks Dave and the team at Audi Rochester."